Elliott's feature laden system provides unparalleled user customization and flexibility for business software.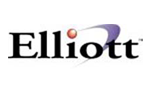 Elliott Business Software – A Fully Integrated ERP Solution
Choosing which business software will drive your company now and into the future can be vital to your company. You need business software that goes beyond the traditional accounting tasks.
You need an Enterprise Resources Planning (ERP) solution that can offer Supply Chain Management (SCM), Warehouse Management, Customer Relationship Management (CRM) / Contact Management, and eCommerce / eBusiness.
Elliott Business Software is a powerful, sophisticated, feature rich, and fully integrated ERP software that is affordable by businesses of every size.
The Right Investment
Whether you are upgrading your current accounting system, right sizing or downsizing from a mini-computer or main frame, your investment in business software should meet and exceed your current financial management needs. Elliott Business Software is your answer.
Proven Technology
ELLIOTT is a Windows 32/64 bit business software based on PSQL database and runs on a Local Area Network or Single User environment. Elliott offers extensive support for Terminal Server, which makes it ideal for organizations with multiple locations.
Affordable Pricing
ELLIOTT offers solutions in Accounting, Distribution, Manufacturing, Customer Relationship Management, Supply Chain Management, Warehouse Management, and e-Business/e-Commerce. Instead of pricing by module, Elliott offers per user-based combo pricing that results in an extremely affordable entry point price for its base solution.