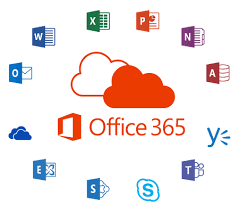 Microsoft Office 365 provides businesses all the familiar Microsoft Office collaboration and productivity tools like Outlook, Word, Excel, Calendar, etc. in the cloud – encouraging mobility and lower IT costs.
A cloud-based version of the familiar Microsoft Office 365 desktop suite with secure communications and collaboration services.
Be Productive Wherever You Go
Microsoft Office 365 delivers the power of cloud and Microsoft productivity software to businesses of all sizes, helping save time, money, and free up valued resources. Microsoft Office 365 combines the familiar Microsoft Office desktop suite with cloud-based versions of Microsoft's communications and collaboration services to help users be productive from virtually anywhere they are.
Whether you're working in your office or on the go, you get a familiar, top-of-the-line set of productivity tools. With automatic updates, you always have the latest versions and can create, edit, and share from your PC/Mac, iOS/Android™, or Windows device with anyone in real time.
If you would like to explore Office 365 possibilities for your organization, call TBS Automation Systems inc. at 856.424.3247 option 3.