Velosio Socius, an award-winning business technology and consulting organization, has been named to the 2017 Microsoft Dynamics Inner Circle for the 20th year in acknowledgment of exceptional service and sales performance. Velosio Socius is the only organization to have earned this achievement 20 times through the history of Microsoft's Dynamics partners.
This recognition of Inner Circle for Microsoft Dynamics came during Microsoft Worldwide Partner Conference (WPC) 2017, the annual premier partner event, which took place July 10-14 in Toronto, Ontario.
Membership in this elite group is based on business performance and licensing growth, and placed Socius in the upper echelon of the Microsoft global network of partners. Inner Circle members have performed to a high standard of excellence by delivering valuable solutions that help organizations achieve increased success.
"Each year we recognize and honor Microsoft Dynamics partners from around the world for exemplary business performance," said Frank Holland, Corporate Vice President, Microsoft Business Solutions Sales & Partners. "These award-winning partners represent the top 1% of Microsoft Dynamics partners in terms of sales performance, but their critical impact on the success of our shared customers is what truly stands out. Microsoft is honored to recognize Velosio Socius for their achievements this past year and for their dedication and support of Microsoft Dynamics solutions."
Inner Circle status has been a distinction bestowed upon Microsoft Dynamics partners for the past 23 years. As a long-time leading partner, Velosio Socius has earned this recognition 20 times. The 2017 Inner Circle for Microsoft Dynamics is limited to less than 60 of the most successful and strategic Microsoft Dynamics partners from around the world.
Velosio Socius leverages innovative technology, specialized expertise, and strategic partnerships to fuel the growth and transformation of organizations across the United States. As a Gold Certified Microsoft Dynamics partner, the Velosio Socius organization provides the complete portfolio of Microsoft Dynamics ERP and CRM solutions. Velosio Socius is also a Microsoft Cloud Accelerate partner, providing our clients with power to choose whether they want their business solutions deployed on-premises, hosted by Velosio Socius, in our private cloud, via Azure, or a hybrid approach.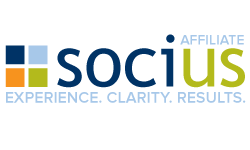 Socius, recently renamed Velosio, is a strategic business consulting partner that provides comprehensive business management solutions to help companies leverage technology to fuel their growth and profitability and compete more successfully in today's economy. As a Gold Certified Microsoft Partner, a Sage Authorized Partner, and a NetSuite Partner, Velosio represents the most trusted accounting, enterprise resource planning (ERP), customer relationship management (CRM), and business intelligence and analytics technologies on the market. Backed by over 30 years of award-winning experience, Velosio proudly serves clients throughout the country from its headquarters in Dublin, Ohio, and its 28 additional nation-wide locations.